The World Poker Tour And Some Of The Contributors To The TV Show!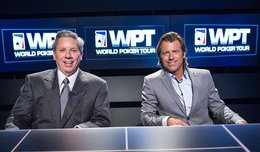 The World Poker Tour Series is a chain of international Poker Tournaments which is also packaged for TV broadcasting, with final table action for each tournament being filmed for Poker enthusiasts watching the games on TV from their homes.
It was created in the US and was the brainchild of TV show producer/attorney Steve Lipscomb. At the time he was also serving CEO with WPTE otherwise known as WPT Enterprises, the company who had been in charge of the World Poker Tour leading up to the end of 2009.
In November of 2009, PartyGaming would announce their procurement of the WPT from WPTE, a sum of $12,300,000, would change hands in the process. With a year round TV schedule, building upon audiences watching the World Series of Poker, WPT has also been a large contributor towards booming Poker games appearing in American households, online, and also in casino Poker rooms.
Online Poker sites and casinos are very much key sponsors for the WPT and the internationally syndicated TV show, features analysis and commentary from actor Vince Van Patten and former WSOP bracelet winner Mike Sexton. A female host conducts sideline reporting and interviews, with Shana Hiatt filling the spot for the show's first three seasons.
Courtney Friel would take over the host mantle for season four, Sabina Gadecki for season five, Kimberly Lansing and Layla Kayleigh for season six.
Reporter and Poker player Amanda Leatherman would host the show for season seven, with Kimberly Lancing now returning as anchor for the ninth season through till eleven. Lynn Gilmartin would take the helm for season 12 and is retained once again for season thirteen in 2015, which can be seen on Fox Sports Networks, throughout the country.
As an interesting little side note, there are only 4 players who managed to finish in the money on one or more occasion in all of of the World Poker Tour's 8 seasons. These players are Erik Seidel, Mark Seif, Phil Hellmuth and Surinder Sunar from Wolverhampton, England, former finalist in the inaugural United States Poker Championship in 1996. Will any more be added to the list? Guess everyone will have to tune in to find out, right!